The 21-year-old was shot in the chest by an IDF sniper during protests on the Gaza-Israel border on 1 June as she attended wounded protesters.
On Thursday several Israeli government and army officials tweeted the video – named "Hamas' use of human shields must stop" – which shows part of an interview Ms Najjar gave with Lebanese al Mayeen TV where she says she was acting as a "human shield"
.In the full clip, however, the young woman goes on to say she was present at the protests to "save the wounded at the front lines". She does not mention Hamas, the militant group which controls the Gaza Strip.
Her death has become something of a rallying cry for Palestinians, who have named her "the Angel of Mercy". In footage that has emerged since, she can be seen throwing a tear gas canister away from people lying on the ground.
"Razan al Najjar is not the angel of mercy that Hamas propaganda attempts to portray," the IDF's Arabic language spokesperson Avichay Edraee wrote on Twitter.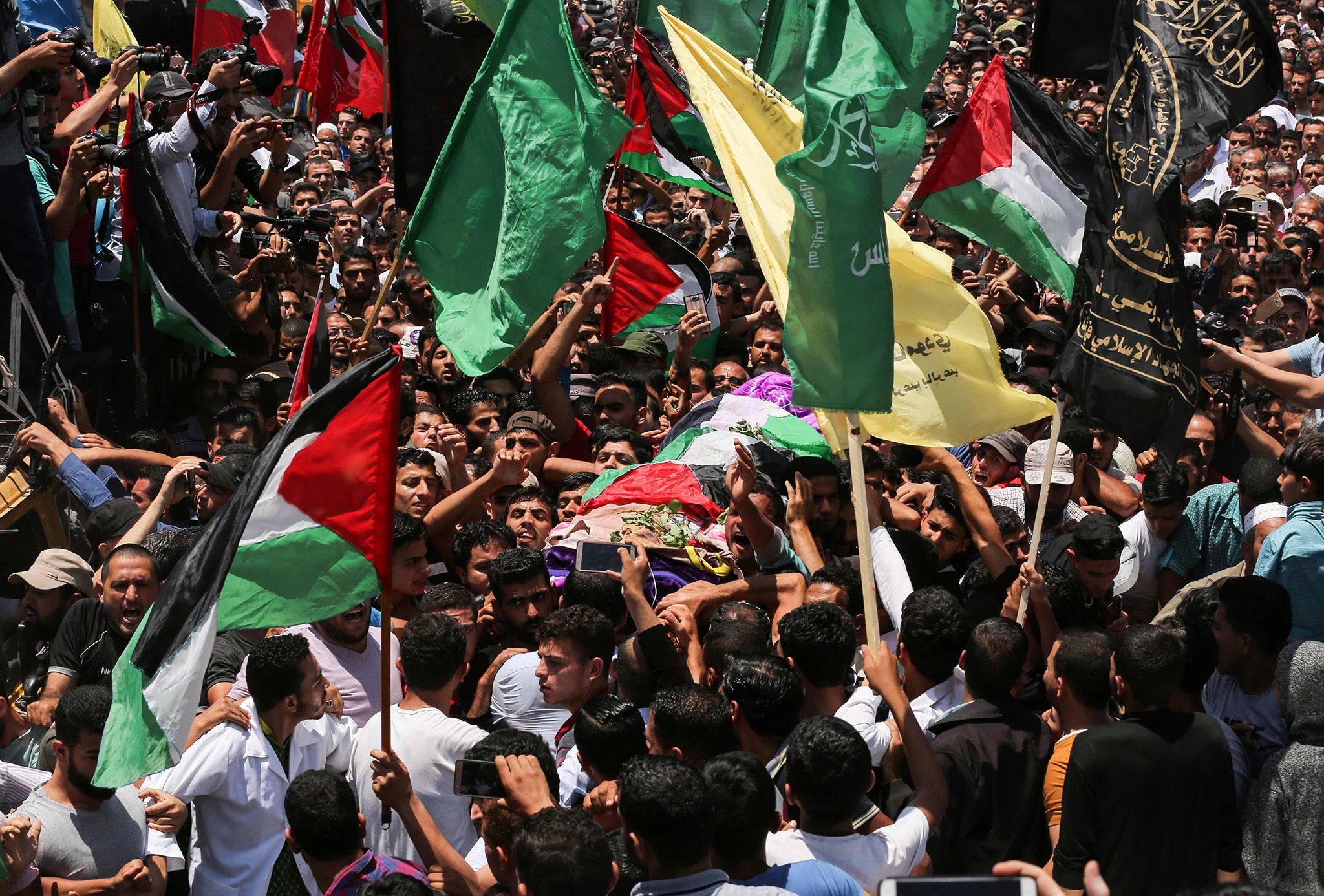 "Her admission that she is a 'human shield' for the inciting rioters proves how Hamas uses the entire Gaza population as ammunition for its aims and for Iran's aims.
"Do medical personnel around the world throw bombs and participate in disturbances and call themselves human shields?"
The video has been fiercely criticised by Palestinians and rights activists as an attempt to justify Ms Najjar's death.
"The IDF always accuses Palestinians and Israeli human rights orgs of editing documentation of it human rights abuses. But it edited this video of Razan al Najjar to discredit her after murdering her. Absolutely despicable and hypocritical," Israeli-American writer Mairav Zonszein said on Twitter.
The IDF did not immediately respond to a request for comment. Gaza has been rocked by two months of protests over the Strip's dire living conditions and the Palestinian right of return, during which Israeli sniper fire has killed at least 121 people. Up to 13,000 have been injured by live fire and tear gas.
The violence – the deadliest for Gazans since the end of the 2014 war with Israel – culminated on 23 May, when the US officially inaugurated its
new embassy to
Israel
in the contested city of Jerusalem.
Israeli officials say the blame for high human cost of the protests lies with Hamas, which it says encourages demonstrations as cover for planned attacks on Israeli soldiers.
On Friday, three people died and at least 383 were injured during the weekly holy day protest as Israeli troops resumed the use of tear gas and live bullets to disperse protesters.
Friday also marks Al Quds Day, an annual day of support for an independent Palestine and opposition to Zionism held on the last Friday of
Ramadan
.
The tradition, which began in the Islamic Republic of Iran, is usually observed with rallies in Muslim countries around the world.